72 x 48 QUICKdrain ADA Pan Sloping Kit | CURBLESS Shower
72 x 48 QuickDrain ADA Pan Sloping Kit for tile is a CURBLESS Shower is made of pre-sloped extruded rigid PET* plastic foam. Strong yet lightweight, non-reactive, economical, and shatterproof.
For Curbless Showers 28 - 72" long x 48" deep.

MAY EASILY BE CUT TO CUSTOM SIZE WITH UTILITY KNIFE.
DEEPER than 48 Inches? CLICK HERE

NOTE: For Curbless Showers it is recommended that the Showerline Drain is placed parallel to the shower entry as shown in the example photo.
The Showerline Drain Pan Sloping Kit is chemically stable, UV resistant and suitable for both interior and exterior use. Can be used with both sheet and liquid topical waterproofing.
Features:
Speed and consistency of installation

Eliminates the need for traditional mud bed installations

Lightweight, durable with high compressive strength 145PSI

Interlocking design, can be quickly and easily modified to size and shape of on site conditions

Meets IAPMO PS-106-2013

100% post Consumer recycled and fully recyclable
SHOWER ADA PAN KIT SPECIFICATIONS
Showerline Drain Planning Guide
Shipping: TYPICALLY SHIPS SAME DAY | When ordered on Standard Business Days (M-F) before 12PM EST.
Uses:
Interior and exterior use

Industrial, commercial and residential showers

Gang showers

Pet Showers Suitable Substrates ( Interior Only)

Concrete

Exterior Glue Plywood

Cement backer board Consult cement backer board manufacturer for specific installation recommendations.

OSB Or Avantech
ShowerLine Pan Kit Includes: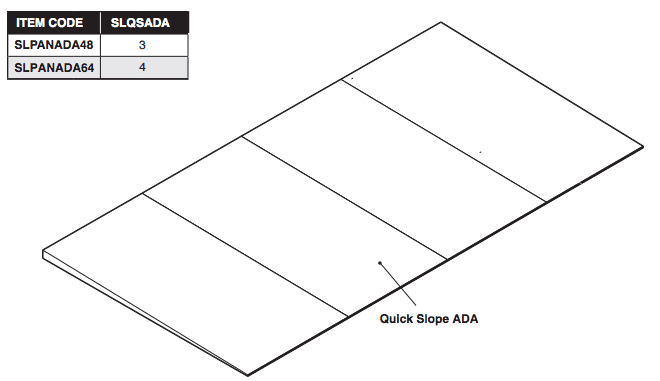 *DEF. PET (polyethylene terephthalate)

SHOWERLINE SYSTEM =

DRAIN + COVER

+

SHOWERLINE PAN KIT

+

WATERPROOFING
Curbless Shower Application
Curbed Shower Application
72 x 48 QUICKdrain ADA Pan Sloping Kit | CURBLESS Shower
LIFETIME WARRANTY QuickDrain USA low-profile linear shower drains are intended for use with tile showers. Both the shower drains and the liner must be installed in accordance with the manufacturer's published instructions and the applicable codes. Ceramic tile must comply with ANSI A137.1. Underlayment must comply with the applicable code or ANSI A118.10. Our drains are in compliance with the 2009 International Residential Code, the International Plumbing Code and the Uniform Plumbing Code. When installed in accordance with our specifications and in conjunction with local building codes, our drains carry a lifetime guarantee and warranty. Any defective drain that has been properly installed will be replaced at no charge. There is no warranty on installation.