Shower Trench Drain Explained | Curbless Shower
YES! WE ARE OPEN, MANUFACTURING & SHIPPING TO YOUR DOOR! MADE IN THE U.S.A.
EZ Able® Serving Aging-in-Place Needs Since 2008
Using a Shower Trench Drain to create a Curbless Shower is becoming a standard solution for consumers, and building professionals.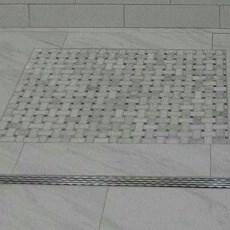 Curbless showers have many advantages. Due to the wave of baby boomers, each year, more and more curbless showers are being requested in residential settings. Despite the recognized advantages, many architects, builders and homeowners still are reluctant to install a shower without a center drain and a 2- to 4-inch dam or threshold.
There are several misconceptions that curbless showers may create a water issue. Many builders and consumers aren't aware of the revolution in building materials that make creating a curbless shower ideal and easy
Misconceptions:
Water cannot be contained in the shower and may leak out into the room or saturate the subfloor because it is difficult to get a reliable slope to the drain.
Curbless showers are primarily an institutional option.
Installation will be difficult and the floor joists will need to be reframed
Waterproofing these showers is difficult.
Facts:
Today there are pre-sloped panels that make creating a curbless shower easy
Curbless showers make showers accessible to everyone. The single direction slope opens up design possibilities. You can use any size tiles in these showers as opposed to the small mosaic size tiles required if a center drain is used.
Installation is easy. Pre-sloped panels are available that make installation much easier than the old style installation methods.
Waterproofing is simple and many waterproofing methods are available.
What is a Shower Trench Drain?
A shower trench drain is often also called a linear drain. It is a long narrow trough that runs along the open side of a curbless shower. Water flows across the shower floor into the "gutter" (or trench) and into a standard drain. The trench is covered with a metal or plastic grate, flush with the shower and room floor.
Advantages of Shower Trench Drains
Since trench drains are an effective method of controlling water, especially if waterproof membranes are used and correctly installed, designers and builders can be more confident that unwanted water infiltration will not occur.
Prior to the advent of a linear drain, the shower floor would have multiple compound slopes to a center drain. Center Drains make it difficult and unsafe for many people, e.g., a person unsteady on his or her feet or someone using a freestanding shower chair or a shower wheelchair. When curbless showers are constructed with a trench style drain, compound slopes in the shower floor can be eliminated and a stepless entry provided. A floor with a single slope is safer for most users and makes it possible to install the same tile size throughout the bathroom and shower.
The single slope that a linear drain provides also has aesthetic advantages too. Now the shower floor tile can be any size. The single direction slope opens up design possibilities. You can use any size tiles in these showers as opposed to the small mosaic size tiles required when center drains are used. Many people opt for a curbless shower because it is so attractive.
This Tech Sheet shows suggested installation details in two different construction types: wood frame and structural concrete slab.
Growing Acceptance
In the US, curbless showers with trench drains have been installed for years in some special use occupancies. Internationally, they are a commonly accepted and aesthetically integrated residential option. More attractive examples of curbless showers using quality finishes are being built and publicized, contributing to a growing demand for this option.
Trench Drain Tips:
Quality materials and careful installation must be used to ensure a leak and maintenance free shower.
Curbless showers must include waterproof membranes, non-slip floor materials, and no abrupt change of level greater than 1/4 inch.
Membrane should be clamped into the drain body. Shower floor slope should not exceed 1/8 – 1/4 inch per running foot.
As with all shower installations, caulk should never be used as a primary leak prevention method.
Cast or molded trenches are best.
Grates should be light enough to remove easily for cleaning.
Prefabricated curbless shower units with builtin trench drains are not as durable as custom built designs. It is strongly recommended that a waterproof membrane be used even when installing a prefabricated unit.
See Curbless Showers: An Installation Guide (available at www.centerforuniversaldesign.org).
Ready to shop but don't know where to start?
CLICK HERE TO REQUEST A FREE CUSTOM SHOWER CONSULTATION.
This information is advisory and the guidance provided is not legally binding. Refer to specific codes and regulations within your jurisdictions. No guarantee is offered or implied for the completeness of the information provided.
References: The NC Division of Vocational Rehabilitation Services and the Center for Universal Design, NC State University.