36 X 48 Shower Stall + Built-in Seat | Multi-Piece
36 X 48 Shower Stall with built-in Seat is a multi-piece unit which makes getting the unit into your existing bathroom easy.
EZ Able® offers only US Made premier walk in bathtubs and walk in showers. These are roll in showers. Say no to flimsy, hard to install showers and buy our MADE IN USA showers instead!
This walk-in shower stall is the perfect choice for people desiring a remodel shower. What is great about this walk-in shower stall is that it is also available with a right or left seat configuration.
Quality you can see. EZ Able® Showers have a reinforced, pre-leveled base and an AcrylX™ (Applied Acrylic) finish. AcrylX™ Applied Acrylic is a brighter, more lustrous white; thus, providing aesthetic appeal to your bathroom. With less dulling and more shine to the finish, AcrylX™ products will stand the test of time.
AcrylX™ Applied Acrylic is a tremendous innovation in the bathware industry. Tested and value proven, AcrylX™ products bring luxury to the everyday bath Manufacturing.
The pre-leveled shower base is a problem solving feature of tremendous benefit to construction plumbers, developers, and owners by saving installation time and money, minimizing risk of water drainage problems and soft shower bottoms. This pre-leveled shower unit is ready to install on a solid, level floor. EZ Able® shower bases are so strong that they can be set with construction adhesive. Say goodbye to traditional mud set shower bases which are known to not drain properly.
AcrylX™ Shower Features:
3 Piece unit that you can easily get into your existing bathroom.

Self-supporting pre-leveled bottom eliminates mud setting and drainage issues

6 inch X 6 inch Tile Pattern with Diamond Shaped Accent tiles

Simulated tile pattern and smooth walls

Easy to clean

Molded leg ledges

Molded soap ledges

Lifetime Warranty*

Integrated backing

Standard Color Choices: white

Code Compliance: IPC, UPC, ANSI Z 124.2, HUD, FHA
Acrylx™ Applied Acrylic:
Thick, 22 mil applied Acrylx™

Class B fire retardant

LEEDS Credits

USA & CANADIAN PATENTED DESIGN PROCESS

USA patents March 2006, No. 7,007,315

Canadian patent May 2008, No. 2,444,083
| | |
| --- | --- |
| Pieces: Multi-Piece 3 | Finish: 6 Inch Tile Smooth |
| Drain: Center | Seat: Left or RIGHT | Standard Color: White |
| Width: 48 Inches | Depth: 37 Inches |
| Height: 79.5 Inches | Threshold: 4 Inches |
Look to this walk-in shower stall to increase your bath safety.
With this shower's entrance and non-split floor you can safely move in and out of this shower. This is a great shower kit for any location. Since our shower walls are Armorcore backed accessories; like grab bars; can be mounted almost anywhere. Transform your Bathroom for more safety today and into the future.
Accessories available: Shower valve, glide bar/hand shower, seat, grab bars, collapsible water stopper, drain, curtain and rod.
Color Options Available
Standard Color: WHITE | Call for Pricing for Other Available Finishes.
EZ Able® also offers:
| | |
| --- | --- |
| Multi-Piece Showers | Pre-Fabricated Showers |
| Solid Surface Showers | Curbless Showers |
| Kits for Tile Applications | QuickShip Packages |
| ***Only a Fraction of our Offering is ONLINE | |
Accessories available: Shower valve, glide bar/hand shower, seat, grab bars, collapsible water stopper, drain, curtain and rod.
The standard shower base is WHITE. Custom colors are available.
Before purchasing or installing any home modification product, please check with your local building department to insure compliance with the local building codes. EZ Able, LLC is not responsible for any conflicts with local building codes.
EZ SPECS* - ALWAYS Refer to the Detailed Product Information Sheet For Installation Product Information.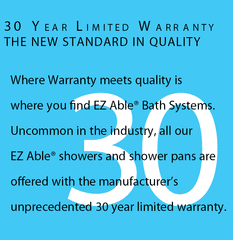 Shipping
We Pay Shipping on this
MADE UPON ORDER

PRODUCT.
IT SHIPS OVER THE ROAD to locations within the Contiguous USA.
What is Over the Road Shipping?
MADE TO ORDER PRODUCT | TYPICALLY SHIPS IN 3 - 7 BUSINESS DAYS when ordered on Standard Business Days (M-F) before 12PM EST. Lead times vary. If your project is time sensitive, please call for current lead times before ordering.
For your convenience, we pay the trucking company to provide 24 hour delivery notice. You MUST inspect your order for damage upon it's arrival. If in the rare instance there is damage, you MUST indicate that there is damage on the delivery paperwork. You will be notified with your Pro Number once your order ships. A Pro Number is the name for Over The Road Tracking Numbers.
Made Upon Order Products are Not Returnable.
AcrylX with the Strength of ArmorCore Lifetime Warranty American Bath Group, the manufacturer of EZ Able Products, warrants to the original purchaser and consumer that its products will be free from defects in material or workmanship when properly installed pursuant to American Bath Group installation instructions for the following warranty periods: Lifetime Warranty AcrylX Residential* Use CenturyStone Residential* Use Thirty (30) Year Warranty AcrylX Commercial* Use (2) CenturyStone Commercial* Use Upon inspection by an authorized representative, American Bath Group will repair or exchange at its sole discretion, any unit found to be defective in material or workmanship. The exchange of a unit will only be considered when American Bath Group has eliminated all options to restore the unit to acceptable factory condition. Exchange of a unit is limited to supplying replacement product of comparable size and style, and does not include any cost of removal or installation. EXCEPTIONS This warranty shall be voided if the unit is moved from its place of initial installation or is not installed in accordance with the instructions supplied by the manufacturer of the unit. American Bath Group will not be held responsible for any damages resulting from improper installation. Further, this warranty does not apply if the unit has been subjected to accident, abuse, misuse, damage caused by flood, fire, or other force of nature. Any unauthorized repair or modification to the product would render the warranty null and void. This warranty does not apply to any equipment or accessories not installed by American Bath Group and American Bath Group will not be held liable for any results of such acts. American Bath Group is not responsible for any consequential or incidental mishaps, inconvenience, time loss, incidental expense, materials or labor related to the installation of hardware or the actual tub. The owner agrees by use of the unit that the obligations of American Bath Group shall not extend to contingent or indirect damage or injury to the structure of its contents, that the obligations of American Bath Group are limited to those set forth herein, and that no other obligations, expressed or implied, are assumed by American Bath Group. The product is not recommended for outside storage. To obtain warranty service, the Customer must give prompt notice to American Bath Group of any claim. To Submit a Warranty Claim, Please Visit https://americanbathgroup.com/work-orders/
Have a question?
We're here to help.